Sorry I didn't post yesterday. Summer has me forgetting the days of the week. (Maybe I should've enrolled in AP Calendar Studies?)
Anyway, I wanted to talk about dreams. Fictional dreams, that is. Because, let's face it, most stories have a dream scene somewhere. And, let's face it, they can be pretty great--or pretty not-great.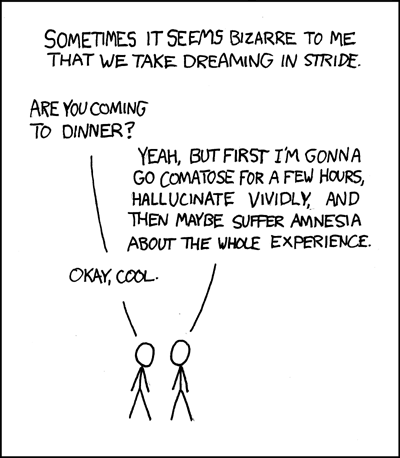 Let's start with the not-great. The reason I most often hate dream scenes is because that particular dream scene has been done over. And over. And over. For example, school-in-underwear. The scene: A high school girl/guy appears in class, in his/her underwear, in front of--gasp!--his/her crush. ...What's the big realization here? Yeah, that it's embarassing to be at school in one's underwear. Thanks. Got it. Another overdone dream is the let-me-point-out-how-hot-the-love-interest-is dream. Scene: girl (usually a girl) encounters the guy (usually a guy) who she vehemently denies any attraction to during waking hours. Yet,
behold! In the dream she notices his perfectly tousled hair, seductive smile, sexy arms, et cetera, et cetera. The big realization? He's hot. And we've probably already heard that.
What makes a dream scene worthwhile? I'd have to say avoiding the cliche. If the underwear dream is included, having some specific insecurity about underwear (other than the one where, you know, it's underwear) fuel the fear in the dream, or maybe not having clothes is a metaphor for something other than I hate being embarrassed, the dream could be useful. Maybe even funny! Funny is another good thing to include in dreams. Humor almost always makes something unique and worthwhile.
Or, consider making the dream scenes make no sense. At all. Because really, when do dreams in the real world make sense? If they're more than five seconds long, the answer is usually "uh, never."
What are your thoughts? Are dream scenes worthwhile? What makes them great/not-great?
Kieryn